| | |
| --- | --- |
| Number of Peaks Climbed | 5 |
| Peaks Climbed | Lower Wolfjaw, Upper Wolfjaw, Armstrong, Gothics, and Big Slide |
| Peak Height Ranks | 10, 22, 27, 29, and 30 |
| Trailed / Trailess Peaks | 5 / 0 |
| Peak Numbers | 1, 2, 3, 4, and 5 |
| Total Elevation Gain | 7359 feet |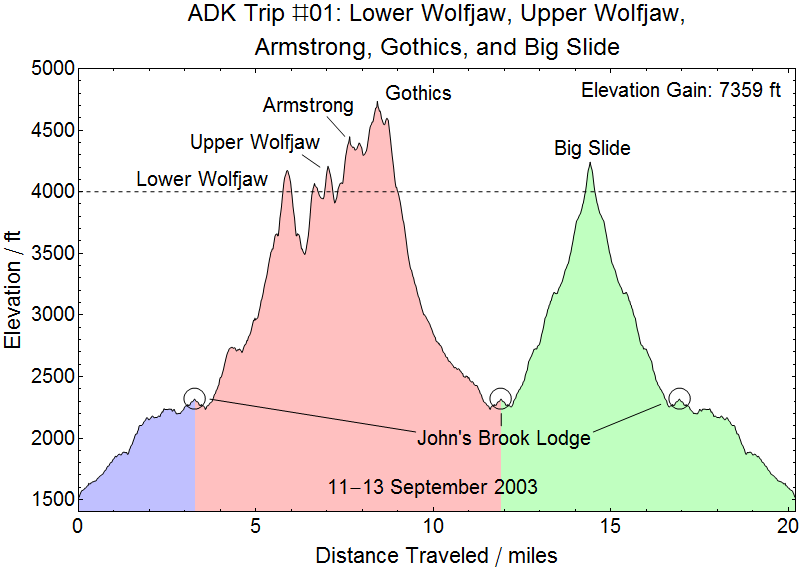 Prologue:
Merrick and I first learned about the ADK 46ers from a couple in our church in Charlotteville, VA, Mark and Karyn Traphagen. We had spent our honeymoon (married 7 December 2002) in Croghan, NY (well, North of Croghan) in a log cabin. It snowed about 2 feet (adding to the 2 foot base) the day we arrived in Croghan and hit -20F later that night shortly before dawn. It was a blast! Besides having fun making igloos and snowmen and hiking trails around the area we drove out to Lake Ontario (Merrick fell in) and visited Canada. Kristy had never been out of the country, so we crossed into Canada at
Thousand Islands Bridge
and drove down the MacDonald-Cartier Freeway (Highway 401) about 6-7 miles to the Canadian Tire in Gananoque and took a picture of Kristy in front of it just to prove she'd been in Canada. Mark and Karyn, along with their daughters Hannah and Sarah, had climbed the 46 peaks when they lived in New York. Growing up my family had enjoyed hiking in the Appalachians and mountains of Virginia and camping at Civil War reenactments. Merrick also enjoyed hiking and other outdoor activities, and we had been on a number of day hikes before we were married. We had recently decided that we were interested in starting to backpack camp so that we could go on longer trails than was possible with day hikes alone. We were scheduled to be in New York City the second week of September 2003 for an American Chemical Society Meeting (we are both physical chemists), and decided to give the Adirondacks a try.
11 September 2003:

The Garden to John's Brook Lodge
We set out from New York City in the morning with our new (and never before set-up) 4-man backpacking tent, frame backpacks, sleeping bags, and various other gear – in total each of our packs weighed over 40 pounds. We reached the trailhead at the
Garden
late in the afternoon intending to make a loop trail over part of the Great Range with our packs over the course of the next several days. We had noted in the ADK guidebook our friends lent us that the Great Range was "not suggested for inexperienced backpackers", but had somewhat dismissed the warning as similar to the ones in the Virginia Appalachian guidebooks about "strenuous" climbs which basically translated to "not suitable for strollers." The last part of the path from the Garden was a bit rougher than we expected with our packs and we made somewhat slower progress than we had planned, but nothing terribly surprising. By the time we got to our campsite my right knee was bothering me quite a bit – I had twisted it two weeks earlier when we moved from our apartment to a townhouse, and the combination of a heavy pack and rock-hopping on the rough trail aggravated it. We made it to the campsites just beyond John's Brook Lodge as the sun was setting, got our tent set up in less than 10 minutes (which we were proud of, since the process involved reading the directions by head-lamp light), and promptly got the first of our lessons in how hiking in the Adirondacks is MUCH different from hiking in the Virginia Appalachians. A French-Canadian couple who had arrived at the same time as us chose to hang their packs first then set up their tent. By the time they set up their tent rustling noises started coming from the direction of where they had hung their packs. They asked us to come with them to investigate – which we did – only to find a very agile bear removing their packs from the tie rope and preparing to feast on their dinner. The bear looked at us all and growled so we backed away quickly. At this point we decided that hanging our packs would likely be quite ineffective. We did not have a bear canister (hadn't even heard of them until we talked to some folks at John's Brook Lodge to ask where the campsites were). We walked back to John's Brook Lodge to ask the folks there for advice. The main party staying at the lodge was a group of women who dubbed themselves the "Summit Sisters". They were very excited to hear that we had seen a bear, and worried about our safety camping outside. They offered to store our food with theirs in the Lodge, an offer we gladly accepted. We took all of our food and other scented items (such as bug spray and deodorant), put them in a black plastic garbage back we had brought, and left them with the ladies in the Lodge. We also cooked and ate our dinner (canned soup and bagels – not exactly lightweight hiking food, but at this point we did not know any better) while we were up at the Lodge (to keep any food smells away from our tent) and took advantage of the potable water tap there to refill our canteens. Our next lesson in differences between the Adirondacks and Virginia Appalachians came from talking to another party of hikers (four 20-something men who were all in very good shape) who had returned to their campsite adjacent to ours by the time we finished with dinner. They had just returned from making the trek over the Great Range we were planning to set out on in the morning. They had made the trip as a day hike, and strongly cautioned us against trying to take our full packs up on the Range Trail. They also informed us that the cables on the west face of Gothics that our guidebook said were in place to assist hikers with the steep decent had been removed in the past 2 weeks due to deterioration, but assured us that said cables were "not really necessary – it is more 'fun' to go down without them". One, though, stated that he had some experience climbing with tackle and that the descent of Gothics was about as technically challenging a climb as he could imagine without requiring tackle and added that on several occasions he'd wondered if he'd have to continue the descent crab-walking down the mountain.
12 September 2003:

Lower Great Range (Lower Wolfjaw, Upper Wolfjaw, Armstrong, Gothics)
The next morning we walked down to John's Brook lodge to retrieve our breakfast and lunch food and refill our canteens. We set out for the Range Trail at ~0700 with beef jerky and apples stuffed in the pockets of my jacket which I tied around my waist, Merrick carrying our big
manual camera
in its case, and about a liter of water apiece in our Civil War reenacting canteens. It was a beautiful day, and we took lots of pictures, enjoyed ourselves thoroughly, and were very grateful not to be carrying our full packs as we climbed up the trail to Lower Wolfjaw. The trail was MUCH steeper than we expected, and there were a number of places where we had to scramble up onto chest- and head-high ledges that made Merrick (who is afraid of heights) rather nervous, and which neither of us was sure we would be able to climb back DOWN easily. We probably hit the peak of Lower Wolf Jaw about 0930 and after a short snack and drink headed back down to the junction with the Great Range Trail to start the ascent of Upper Wolf Jaw.
Money Shots: Lower Wolfjaw Mountain (1) - Summit 2003-09-12 09:30 EDT(?)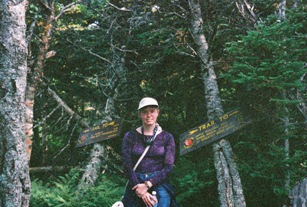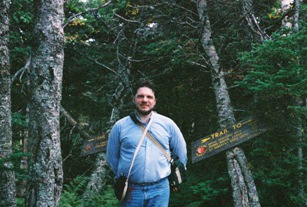 Our apologies for the amazingly bad image quality of these pictures. These are digital scans of the originals provided on CD by Ritz Camera and they obviously had a lot to learn about this process back in 2003. The prints are much better than this, and when we get a change we'll rescan the prints or go directly to the negatives and replace these horribly grainy pictures.
Upper Wolfjaw Mountain
We probably summited Upper Wolf Jaw at about 1030 and broke shortly shortly to snack and drink again. It was about this time that we realized our water was getting lower than expected and started trying to conserve a bit.
Money Shots: Upper Wolfjaw Mountain (2) - Summit 2003-09-12 10:30 EDT(?)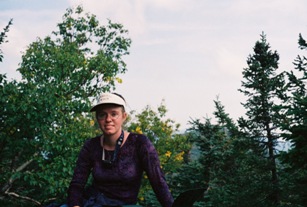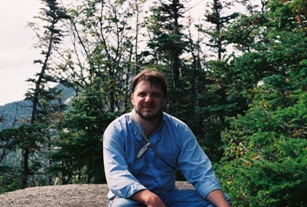 Armstrong Mountain
Armstrong was next and we probably hit the peak at about 1115. Snacking again, our lack of water started to make jerky less appealing. But we had three of our six planned peaks behind us and we've been thirsty before, so no worries, right?
Money Shots: Armstrong Mountain (3) - Summit 2003-09-12 11:15 EDT(?)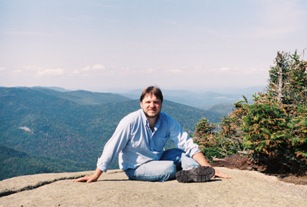 Gothics
The Range Trail has been extremely well maintained and there seemed to be no reason to expect much else at this point – steeper and rockier than trails we had been on before and interspersed with rock scrambles and ledges that we climbed up without too much difficulty – but realized it might be harder to climb down. But heck! Half a day of hiking and we'd already put three peaks under our belts and would soon have three more and be heading back to camp victorious on our first outing. The trail was relatively easy to follow, though marked much less frequently than Virginia trails are (which tend to have a blue blaze painted on a tree about every 50 yards or less). In contrast, Adirondack trails are marked with little round colored disks nailed to trees at infrequent intervals (generally only when the trail changes direction or two to three times per mile when not), and occasional yellow paint blazes on rock or cairns once you get above tree line. Then, we got to Gothics – probably at about 1200. The views from the top were breathtaking and we took plenty of pictures, though Merrick was getting a little nervous about being so high and out in the open on the bald summit (due to his previously mentioned not-insignificant fear of heights).
Money Shots: Gothics (4) - Summit 2003-09-12 12:00 EDT(?)
Descent of Gothics:
Off we went down Gothics, a little slowly due to Merrick's problem with heights and the very exposed summit of Gothics. All went well until we started down the west face and got our first good look at what was ahead of us to reach the col. As mentioned before, there were supposed to be cables to help hikers get down the face, but they had been removed a few days before since DEC had decided that the cables were too frayed and unsafe for hikers to rely upon. Many people since have told us that the cables "don't really help anyway", but they sure would have been MUCH more reassuring than the eye bolts sticking out of the rock every few dozen feet! We were thirsty and tired, and not sure we could make it back over Gothics, Armstrong, and Upper Wolfjaw before dark (or down some of the ledges we had climbed up at all), so did the only thing a couple of completely novice rock-scramblers could when faced with a long, steep, bare rock face: we slid all the way down Gothics to the Orebed Trail on our backsides. And let's be clear about this. It wasn't simply that the way had gotten steep, but that many of the 50–75 foot stretches of open rock ended in a 4–5 foot wide ledge (which wasn't always visible from the top of the slide) and shear drop–off of several tens to hundreds of feet. These ledges led to meandering trails of a few dozen yards which lead to the next slide. At least two of the slides were of sufficiently steep pitch that both of us, sprawled out completely on the rock, were unable to completely control our slide but only keep it slow enough that we had hope of catching ourselves at the bottom. It was extremely harrowing and Merrick found it necessary to prepare emotionally before each slide. By the time we reached the Orebed trail at the col between Gothics and Saddleback our canteens were dented, the camera case scraped up, and we had both worn big holes in the seats of our pants but we were alive and no longer out on exposed rock!
What happens when you're not prepared for cable-free cables descending the West face of Gothics? The Summit Sisters were quite amused watching us walk away from John's Brook Lodge with our pre-patched pants that afternoon.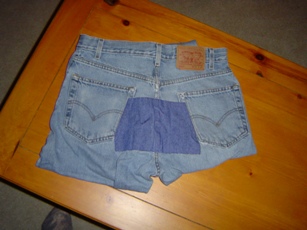 Orebed Trail and back to John's Brook Lodge:
We had originally planned to climb Saddleback and Basin as well, and return to our camp via the Shorey Short Cut and down the Phelps trail, but at this point we were almost out of water, and it was getting late for this time of year – a theme which would dog us repeatedly in future hikes. I pointed out that we were a mere 0.5 miles from the summit of Saddleback (we could see it clearly beckoning to us) but Merrick was having none of it. He was thirsty and more than a little freaked out by the initial descent of Gothics (not to mention walking around with big holes in our pants!) and was also pretty adamant that he wasn't going to, so we cut our hike short and returned to camp via the Orebed Brook trail. The rest of the descent down the Orebed Brook Trail was uneventful, but very steep and slow. After Gothics we were too nervous to walk down most of the steep rock slides, so crab-walked down clinging to vegetation on the side of the bare rock. The descent really started to bother my knee (which had been a little sore all day with the climbing, but not too bad), so even when we got to slopes which were moderate enough to walk down, I substantially slowed our pace. We were completely out of water by now, and very thirsty, but didn't dare drink any water out of the Orebed Brook, since we had no way to purify it. We finally reached John's Brook Lodge between 1500 and 1600 and proceeded to drink about 2 canteens of water apiece from the potable water tap. We then walked down to our camp (getting hoots and cat calls from behind us as we walked away from the Summit Sister who had come over to talk to us) and changed into jeans WITHOUT large holes in the seat of the pants. When we went to retrieve our food from the Lodge to prepare dinner, we encountered the Lodge caretaker (who we had not previously met since he had been down at his cabin the last two times we had left or retrieved food from the lodge). He very angrily informed us that hikers who were not staying at the lodge were not allowed to leave their food there, and if we did not remove our food immediately he would throw it out and report us. We apologetically removed our food from the cabin, trying to explain that we had been invited to leave it there by the Summit Sisters the night before, and did not know any better. The caretaker had already had a similar conversation with the Summit Sister we had benn talking to and it started up again when she tried to defend us. The caretaker was not pleased. After eating our dinner, we resorted to the only other food-preservation method we could think of: sticking our food in its garbage bag under some really heavy rocks in Johns Brook. The garbage bag did not stay perfectly watertight, so our bagels got soggy, but no bear found our food and our canned food and jerky were fine.
13 September 2003

Big Slide Mountain:
The following morning the sky was cloudy and looking like rain. We got up early, and headed up the trail to Big Slide by about 0630. It was a much less eventful climb than the day before. Soon after we started we lost the trail for about 15 minutes and got overly involved in a boggy spot. Then, when we started encountering bare rock slides on the side of the mountain, Merrick began to get nervous and kept stating that "if this gets anywhere near as steep as Gothics I am turning around - we can't make it down that in the rain." We got some beautiful pictures at the top. There was a big bird of prey circling that I think was an eagle - it certainly didn't look like a vulture. We met a nice older gentleman on the summit who had hiked to Big Slidover the Brothers. He lived in the area, and climbed in the High Peaks frequently, but said that he had no interest in ever completing the 46 – he just wanted to climb peaks with pretty views and take lots of pictures.
Money Shots: Big Slide Mountain (5) - Summit 2003-09-13 09:30 EDT(?)
J
ohn's Brook Lodge, The Garden, and Home:
We hiked down Big Slide as quickly as we could (my knee was still having much more trouble with "down" than "up" so I slowed us down), broke down our camp, and prepared to pack out. We stopped at the Lodge for a final refill of our canteens, and met a father and son who had become separated from their main party. They had hiked in from South Meadow, attempting to summit Haystack. The father, however, was on a new blood pressure medication that acted as a diuretic, so he was struggling with dehydration. Their party had reached Little Haystack (a small peak before the true summit of Haystack), but the father had been overcome with muscle cramps and unable to go on. At the same time the son's water bladder had sprung a leak, leaving him with no water. They had decided to change course and hike down to John's Brook Lodge, since it was an easier trail than the one they had taken in, and there was potable water available. However, hiking out through the Garden was going to leave them about 15 miles from their car (and the rest of their party) at South Meadow. We offered to hike out with them and give them a ride to their car, but they decided they needed to stay at the Lodge and rest for a while. We headed out to the Garden at as quick a pace as we could muster with sore joints and heavy packs, since the sky was beginning to look ominous again. We finally stopped to rest at a lean-to about half a mile from the trailhead. At this point the father-son duo caught up with us. They had decided a few minutes after we left that they did want a ride to their car, and had been trying to catch up with us ever since. We waited for them to catch their breath at the lean-to, and hiked the remaining half mile to the Garden at their pace, so got to our car about 10 minutes after it started raining. We were not able to fit both me and Merrick, our gear, and the two hikers in our car, so drove the father to his car at South Meadow. Over the course of this trip we had learned a lot about the Adirondacks, and had some close calls with bears, rocks, and unpreparedness. However, despite our various adventures, we had a great time, and were hooked on completing the rest of the 46 (albeit with better gear and planning).
Next Trip: TableTop, Phelps, Wright, Algonquin, Colden, Porter, and Cascade