| | |
| --- | --- |
| Number of Peaks Climbed | 7 |
| Peaks Climbed | Phelps, Table Top, Wright, Algonquin, Colden, Porter, and Cascade |
| Peak Height Ranks | 2, 11, 16, 19, 32, 36, and 38 |
| Trailed / Trailess Peaks | 6 / 1 |
| Peak Numbers | 6, 7, 8, 9, 10, 11, and 12 |
| Total Elevation Gain | 13846 feet |
09 October 2004
DC to Philadelphia:
For our second trip Kristy planned out another high-opportunity outing. Having missed Saddleback on the first trip due to our surprising descent of Gothics I, in particular, was itching to rack up a high peak count for this trip. We were muh better prepared this time out with a bear canister and a much better selection of food for camping - and a filter pump. It had been a thirsty hike down the Orebed trail the year before with water everywhere taunting us. I had been doing some testing on-base at Aberdeen and Kristy came up the evening of 08 October loaded down with our camping gear. We headed out that morning with a route that took us through Philadephia to visit the Traphagens (ADK46r numbers 3217 and 3218) who were at that time attending Westminster Seminary. We had a great time visiting wih them for lunch and getting a brief tour of some of the site and then continued on to the Adirondacks. We arrived at South Meadow somewhat late in the afternoon and packed in to the campgrounds at Marcy Dam and pitched out tent as the sun was setting. The trip up the road from South Meadow to Marcy Dam is a very easy and rapid hike, even with our packs weighed down with several days worth of supplies and our large tent and heavy sleeping bags, but little did we know that would not be our only run up the road to Marcy Dam on this trip. Hungry from the drive and hike we set about cokking our dinner before bedding down.
The DEC ranger was a bit concerned when we cooked a couple of packages of Easy Mac on the dam as it was getting dark, and stayed with us until we had quickly eaten and were packing up to make sure we were safe. I was joined by a mouse who apparently thought I was an easy mark while the ranger talked to us about bear canisters and shooting bears with paint balls.
Everything washed up and packed away we bed down for the hikes ahead.
10 October 2004
A nice day for hiking:
We woke up to a bright crisp morning ready to head up the trail to Phelps in no particular rush. That's a good thing, because the ranger greeted us in the morning to point out a site restoration marker he'd laid down on the site we had pitched our tent and made us move it. It's still not clear to me if we had missed that disk in the dark setting up the night before or if he'd laid it down that morning and was making us move our already established site, but this added 30 minutes of delay and wet tent handling onto the beginning of our planned hike. So we probably didn't get out on the trail until about 0800 or maybe a little later. We probably reached the summit shortly before noon where we had a light lunch: plenty of water, gorp, and some beef jerky. Gorp was a nice addition to the mix for trail food.
Money Shots: Phelps Mountain (06) - Summit 2004-10-10 10:00 EST
After lunch we headed back down the Van Hoevenberg trail toward Marcy on our way to Tabletop. Since Tabletop was our first trailess peak we were curious exactly how easy the "herd path" would be to find and follow and did have some difficulty at the start of the hedr path. But after some confusion early on we quickly got the hang of it and had no problem following the herd path the rest of the way to the peak. This part of the range has a lot of close evergreens and we before long we were drenched by the morning dew on the needles we brushed against as we hiked. At the peak, having summited that last of our peaks planned for the day, we took some time to enjoy the accomplishment and brief glimpses through the trees while refueling.
Money Shots: Table Top Mountain (07) - Summit 2004-10-10 12:30 EST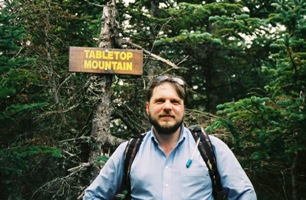 After Table Top we then continued on to Indian Falls and shared some time with many hikers who were stopping there before returning to Marcy Dam for more Easy Mac and to bed down for the night.
11 October 2004
A less nice day for hiking:
The next morning was quite a change from the day before. The morning before had been bright and crisp with the promise of a cool but pleasant day for hiking. The morning of 11 October started out cold and cloudy and promised to be a damp day. Our goals for the day were Wright, Algonquin, and Iroquois. Our friends the Traphagens had given the often quoted advice that if you find yourself on Algonquin it is a relatively short run over to Iroquois and back and so should never be passed up.
We were on the trail for probably an hour or so when a light drizzle moved in, adding a new dimension to the already cold and overcast day. The ascent of the trail to Algonquin was an interesting climb, relentlessnessly steep and spending much of its length climbing up small boulders littered down the mountain from past slides. Being an early trip, we did not yet have our GPS and I was still lugging my Minolta SLR around instead of the Sony digital camera we bought for the third trip. So we have no recorded times for peaks, etc., and only have our memories to go on. But I would guess that we hit the trail at about 0730, just a little after sunrise, and that we hit the junction to the trail for Wright Peak at about 1000. We pushed up the 1/3 mile to Wright by probably about 1030 and took the requisite shots for posterity amongst the fog and incrasingly cold and driving rain.
Money Shots: Wright Peak (08) - Summit 2004-10-11 10:00 EST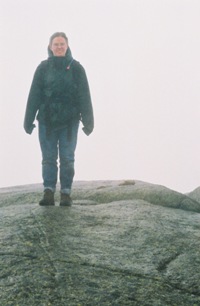 We never encountered actual ice that day, so I assume it never got below freezing, or perhaps it did and the rock was holding just enough heat to prevent icing. But it was wet and cold! So down the trail we went to get out of the worst of the blowing rain. Reaching the main trail at perhaps 1115 we pushed up the rest of the steep ascent of Algonquin once again buffeted by driving winds and stinging drizzle as we left the trees for the open rock portion of the ascent. In some respects the close fog was probably a blessing since I could not see the falls surrounding us on the open rock, but the knowledge of their existence was enough to somewhat temper the speed I was willing to move. But we finally reached the summit with a fairly large number of people on the peak with us.
Money Shots: Algonquin (09) - Summit 2004-10-11 12:15 EST
The most amusing event of the day was encountering the DEC ranger stewarding the peak who was wearing shorts and hopping from foot to foot to help keep himself warm while pointing out that there was Alpine growth surrounding the peak and to please stay off of it. It was on the peak that we encountered the full force of the wind which was stiff enough to drive the rain nearly horizontally across the peak and gusting a bit more briskly than that. The gusts were never quite string enough to give any sensation of trying to help one lose their footing, but they were very strong - and coming straight from the direction of Iroquois. We had every intention of pushing on the Iroquois that day, but after a short discussion with the ranger dancing on the peak in his shorts who said that he didn't think he'd risk the crossing to Iroquois in this weather we decided to head back to camp. We had probably hit the peak at about 1215 and though it seemed like we'd spent a while on the Algonquin it was probably only 1230 when we turned back down the trail towards Marcy Dam.
We know it was quite cold on the summit, because once we got out of the worst of the wind heading back down Kristy's glasses fogged up and made for a quite interesting (though I doubt that's the adjective Kristy would use!) descent. The light drizzle turned steadily heavier as we went down, not that we could have been any wetter, but by the time we got back to camp it was so wet that we decided it would really be a lot more fun that night if we could enjoy a hot shower, hot food, and a warm dry bed. So we packed up some essentials, left a note for the DEC ranger telling him we would be back the following night, and hiked out to South Meadow dripping wet. That hike out was a bit painful for Kristy whose knees were bothering her. But we arrived at the gate tired, cold, and grateful to have our car in sight and down South Meadow road we went.
Headed back down Route 73 toward Keene Valley we quicky passed the Cascade Motor Inn which was quite a site for sore eyes. A quick shower (in unfortunately cold water because they were having some problems with the hot water heater) and we were clean and dry and Kristy's birthday dinner was simply amazing in only that way that a good hot meal can be after a long cold day.
Kristy in Lake Placid
12 October 2004
Kristy's Birthday:
It rained pretty much all day on Kristy's 27th birthday - so we were somewhat glad we weren't on the trail for a second cold wet day. We spent much of the day eating, then washing and drying clothes and gear in a laundromat, then eating again and generally enjoying not being old and wet. Fortunately, the rain tapered off in the afternoon so that after an early dinner we were able to stay dry while we hiked back up the dirt road to Marcy Dam and our tent and spent a relatively dry and warm night anticipating the hike the next morning.
13 October 2004
Another cold day:
The next morning started out brisk but we were well fed and rested and were excited about another day of hiking and the still overcast but clearing morning sky was a welcomed change from the days before. We were certainly on the trail before sunrise, but at that time of year that probably meant not too much before 0700.
As we neared Lake Arnold on the trail to Mount Colden we started encountering the first signs of ice. Further up the trail those signs turned to consistent frost buildup on the trees and trail which was slick at times, but generally better than the muddy trail we would have encountered had the temperature been a bit higher. This was all well before we reached the boundary for the Alpine zone, where it became quite clear that Winter was settling in on the Adirondacks.
The ascent of Mount Colden
Coming out onto somewhat open rock as we neared the summit was a bit of a worry. It had been consistently cold enough this high up on Colden that the rock was below freezing and there was a very thin sheet of ice everywhere. We moved slowly to keep from slipping and falling as we hadn't thought to bring cramp-ons. But after a little cautious wandering around at the top to decided we'd reached the top.
Money Shots: Colden (10) - Summit 2004-10-13 12:15 EST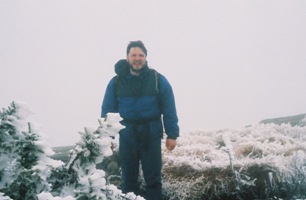 We had originally considered continuing over the peak to return to Marcy Dam through Avalanche Pass, but decided that the stepp descent down that side of Colden with this ice and no cramp-ons was probably a risk we shouldn't take. We had probably reached Colden before 1000, which U consider pretty good time, as we were definitely back to Marcy Dam near noon.
Some shots from Marcy Dam before packing out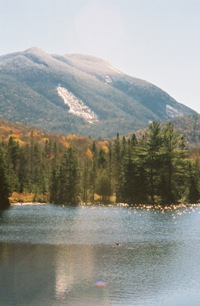 Among the beautiful views from Marcy Dam was a clear sky, sunlit view of Mount Colden showing a very clear ice line starting perhaps 500 feet below the peak. I was able to get a number of nice pictures of the campsite and the views surrounding Marcy Dam before we finished packing up and headed back down the road to South Meadow for the last time. Arriving at the car well before sundown we stopped again at the Cascade Motor Inn and drove into town for a meal and supplies. I bought cold packs and hot packs for Kristy and tortured her that evening in our room by alternating hot packs on her knees with said cold pack torture devices to help bring down the swelling and to help promote healing. In between torture sessions we discussed possible hikes - Kristy had already identified several excellent day hike opportunities and we settled on Porter and Cascade to round out our trip before heading back to Virginia.
14 October 2004
Beautiful hiking:
We awoke to another chilly but otherwise bright and gorgeous day for hiking, but not as chilly as the others had been. We packed up our room, prepared our day packs, and headed down the road to the Cascade Lakes and the trailhead for the ascents of Porter and Cascade. This is literally true, because I drove past the trailhead and we got a short driving tour of the Lakes before turning around and heading back to the trailhead.
The hike up to Porter and Cascade is relatively short, which was a definite blessing given the steep but relatively straight ascent. As far as we could tell we were the first people on Porter that morning. Someone may have headed up the trail before us and gone over to Cascade first, but we didn't encounter anyone all the way up to Porter. We had probably hit the trail at about 0745 and had probably covered the approximately 2.5 miles to the peak of Porter by about 0930 or perhaps even a bit earlier.
Money Shots: Porter (11) - Summit 2004-10-14 09:30 EST
We got some other nice shots from Porter, including a shot of Cascade where I picked out a spot near the summit where I know I was going have some difficulty. But we studied the maps and headed over to Cascade.
Cascade from Porter
We reached the point on the ascent of Cascade I'd picked out from Porter at perhaps 1030 or a little later and little to my surprise I was held up for about 10 minutes while trying to figure out how to scamper up what was a ledge about my height without obvious hand holds. We finally got Kristy up on the ledge and she helped me up with her hand and some encouragement and on we went. So we hit that actual summit at perhaps 1045 and spent about 15-20 minutes on the peak with what had become a rather large number of people, including one dog, several of whom had passed us while I tried to get up the ledge.
Money Shots: Cascade (12) - Summit 2004-10-14 10:45 EST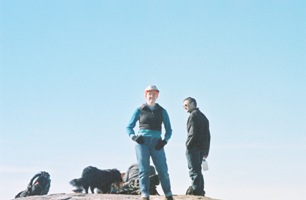 The views were excellent and we enjoyed the warm sun on the peaks. We headed back down from the peak toward the trailhead and probably crossed at least four more parties heading up to Cascade on our way down to the car. We were back at the car shortly after noon, even though Kristy's knees were slowing our descent a bit. And though we had a long drive ahead of us we did a little exploratory driving looking for some homemade Maple syrup to bring back to Virginia with us.
We got some other nice shots from Cascade as well.
The views from Cascade
Next trip:
Two trips and two ophans: Saddleback and Iroquois. This is a trend we hoped to nip in the bud! But with a full quarter of the peaks under our belts in two trips we were very happy with our progress to date, though we knew that we were using up the last of the target-rich areas and that we were going to find it harder to take such long trips in the days ahead. But with only two of the ten tallest peaks behind us we were looking to the tsller peaks for our next outing.