Number of Peaks Climbed
4
Peaks Climbed
Blake, Saddleback, Basin, and Haystack
Peak Height Ranks
3, 9, 17, and 43
Trailed / Trailess Peaks
4 / 0
Peak Numbers
43, 44, 45, and

46!

Total Elevation Gain
xxx feet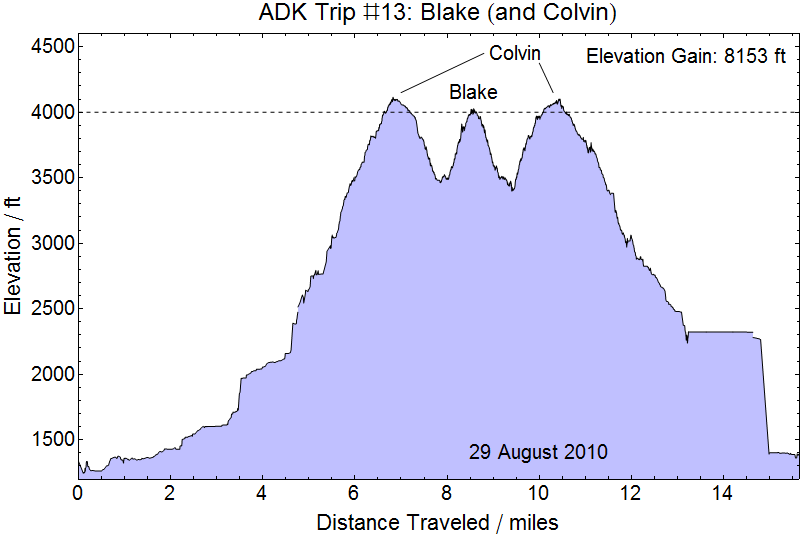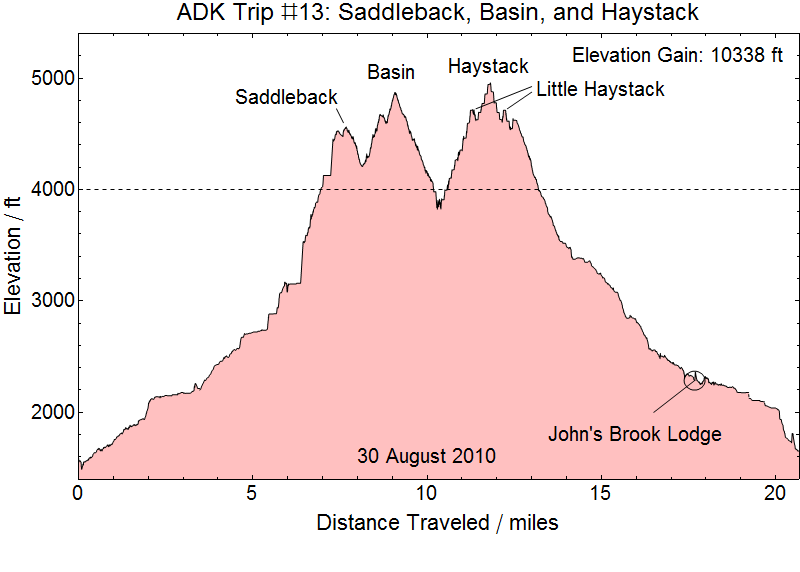 **********************************************************************************

28 August 2010: Flew from Detroit to Albany via Washington Dulles. Drove down to Hunter trailhead. Climbed Hunter. Drove to Schroon Lake.

29 August 2010: Drove to parking off 73 near Ausable Club. Hiked down Lake Road to Gill Brook Trail. Climbed Colvin. Continued on the Blake. Hiked back over Colvin, down to Lake Road, and out to parking.

30/31 August 2010: Drove to the Garden. Hiked to JBL. Took the Orebed Brook Trail to Gothics/Saddleback col. Hiked Range Trail to Saddleback and down Spiderman Rock. Continued on Range Trail to Basin. Continued on Range Trail over Little Haystack to Haystack. Traced back over Little Haystack and cut left at trail fork and descended down to the Phelps Trail. Hiked Phelps trail the JBL. Hiked out to the Garden. Arrived at Keene Valley Hostel at about 2300.

31 August 2010: Drove down to Albany for early afternoon flight to Detroit via Chicago O'Hare.


**********************************************************************************


26-27 August 2010 - Preamble

For the final trip we planned for a relatively long vacation and once again relied upon my Mother for child care. We actually drove from DC to Detroit with Rachel, Merrick, our two cats Elrond and Elros, and way more supplies packed into our 2000 Chevy Cavalier than should fit given the physical laws of our space-time continuum. We arrived about 1500 on 26 August and this time actually stayed to visit for a little while before heading off to hike.

28 August 2010
Detroit to Albany via DC:
We landed at Albany International Airport at 0930 and drove South to the trailhead for Hunter Mountain in the Catskills. Hunter (4040 feet) is one of two mountains in the Catskills with an elevation of over 4000 feet (the other is Slide Mountain - ~4200 feet) and therefore a necessary climb to earn a Northeast 111 patch (and a White Mountains 4000 footer Club patch along the way). Our original intent was to climb Hunter this day, complete the Adirondacks on 29 and 30 August, drive down to the trailhead for Slide Mountain, bag the summit and head to the airport to fly back to Detroit. As often happens, we fell just short of our mark.
Hunter Mountain:
We drove down the New York State Thruway to the Hunter Mountain trailhead, stopping at the Modena Travel Plaza along the way to pick up some sunglasses. At the time I thought that the only place to get UV3 sunglasses was at specific travel plazas along several turnpikes on the East Coast. We've since found their website - that would have saved us time and headache! But, with our glasses in hand (and having driven past our exit to get them) we were back on the road and twisting through the winding mountain roads to get to the trailhead. We chose the Becker Hollow Trail because although it was the shortest of the trails is was universally claimed to be the consistently steepest and most rugged ascent. Arriving at the
Becker Hollow trailhead
at about 1130 we set off for the summit at a good pace and took few breaks on the way up to the summit. Because we had no equivalent of the high peaks trail guide for the Catskills we were uncertain which direction to follow when we reached the junction of the Becker Hollow Trail proper and the Becker Hollow Connector Trail. We took the longer route and spent a little time pacing back and forth on the trail until we were certain we found the high spot on the mountain about 1250 before continuing on to the clearing with the
Hunter Mountain Fire Tower
and took a few pictures.
Money Shots: Hunter Mountain (1/43) - Summit 2010-08-28 12:50 EDT
To the Adirondacks:
So, with our first Catskill summited, we headed back down to the Becker Hollow Trailhead, making pretty good time. We got back to the car at about 1400 and were in our hotel room by about 1800. We stayed at the
Maple Leaf Motel
in Schroon Lake this trip, staying in a cabin, which was well worth it. We did plenty of camping while tackling the Adirondacks and enjoyed almost every minute of it, but for the last few trips we had really reached the point where everything useful we could do on any given area could be done in a day and setting up a camp just wasn't useful. So we enjoyed dinners in restaurants and hot showers.
29 August 2010
Last of the Orphans:
We got an early start on the Lake Road, leaving the car in the parking area at 0545 and making good time to our first goal of the day, our second ascent of Mount Colvin. We reached the summit about 0940, after having passed by several campsites along the Gill Brook trail. Once on the summit we were shortly joined by two groups heading out to Blake as well, though I think we were the only ones who'd been to Colvin before. With others on the summit we had a rare opportunity to get our pictures taken together.
Mount Colvin - Second Time - Summit 2010-08-29 09:40 EDT
Lower Au Sable from Mount Colvin
On to Blake:
After taking the opportunity to enjoy the views from Colvin (it had been overcast and cold on our previous summit) we headed down the trail for the col and back up to Blake. Wow, what a thoroughly unnecessary descent! It might have been less frustrating if we hadn't had to reclaim Colvin just for the privilege of the trip to Blake, and perhaps if Blake weren't in fact a false 4000 footer, or even less if Blake wasn't such an unremarkable peak. But after a steep and moderately slow descent followed by a steep and moderately slow ascent we finally took care of Blake, arriving at approximately 1145. Ironically, our GPS seemed to think that Blake is above 4000 feet. But as with many trips in the iron-rich Adirondacks our GPS was plagued by multipath GPS issues and had difficulty maintaining excellent lock at all times. We spent about 15 minutes at the "peak" taking lunch and rehydrating then headed off back to Colvin - glad to have bagged the peak and somewhat glad to know that we hadn't made a mistake in deciding not to attempt Blake when we were last on Colvin in the mid-afternoon with rain moving in.
Money Shots: Blake Peak (43/44) - Summit 2010-08-29 11:45 EDT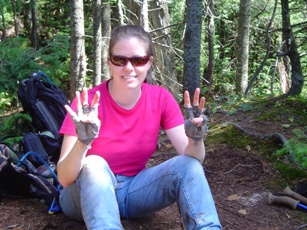 Together on Blake Peak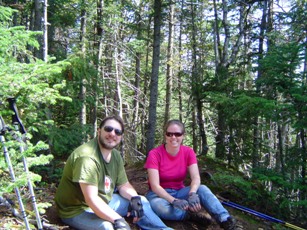 Third time's a charm...:
After yet another thoroughly unnecessary descent and re-ascent of Colvin we of course took the opportunity to take some more pictures and a brief snack. After all, it'll be years before we ever see this spot again, if ever. We got back to Colvin - for good, for now - at about 1415.
Mount Colvin - Third Time - Summit 2010-08-29 14:15 EDT
...and out: So down we went, to the Gill Brook Trail and down to the Lake Road, apparently for the last time. We hit the parking lot at about 1815 for a 13.5 hour round trip and about 15.75 miles. From there we headed down to Keene Valley for dinner at the
Noon Mark Diner
for what we expect will also be the last time for quite a while.
30 August 2010
The Final Hike - Saddleback:
Well, the final Adirondack hike for our 46er status, anyways. We will have to finish off Slide Mountain in the Catskills at some point, and of course there are the White's in New Hampshire, a few in Vermont, and Maine to complete for all 115 (as of November 2011) of the Northeast 111. It's way too far in the future at this point, but my plan would be to complete the rest of the 111 (115) outside of New York first, then finish the quest on Slide, and drive immediately up to the Adirondacks to celebrate on a suitable peak. Perhaps Marcy. But, as I said, that's way too far in the future. Perhaps we'll have business in Albany or Rensselaer and will be able to capitalize on the opportunity to knock off Slide.
But I'm getting way too far ahead of myself. This is the final hike for the ADK46 we're talking about now. Again, we got a reasonably early start on the day, leaving the Garden at 0600. We made quite good time out to the DEC Outpost in a little over an hour then to and up the Orebed Trail. Over the previous hikes this year (2010) we had been talking with folks about where they were on their peak list and what our plans were to finish up we heard nothing but complaints about the condition of the Orebed Trail. Frankly, we found it to be in essentially the same condition it was in when we came down it from Gothics in September 2003 if a little bit more grown over. Like many long trails in the Adirondacks: up, up, up! But we managed to keep up a relatively decent pace and were on Saddleback (nearly 7 miles hiked in a little less than 5 hours) at 1050. Along the way we had seen amazing views of the descent from Gothics that had called an end to our first full day of hiking in the Adirondacks. The sites from Saddleback were fantastic.
Money Shots: Saddleback Mountain (44/45) - Summit 2010-08-30 10:50 EDT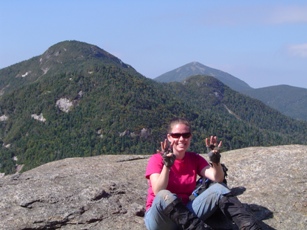 And on to Basin:
In our various discussions that year the other response we got besides the complaints about the condition of the Orebed Trail was the ashen faces and hushed tones that everyone adopted when speaking of Spiderman Rock. OK. Spiderman Rock was NOT a walk in the park. And I will remind my readers that I am terrified of heights (why am I bagging peaks?) but as afraid as I was of going down these rocks it definitely wasn't as bad as Gothics, in part because none of Spiderman Rock was as open and exposed as was the descent of Gothics (or Basin and Little Haystack and Haystack, as we were about to find out). So after some considerable trepidation and delays on getting started down the whole event probably lasted less than 5 minutes with several short stops. I have spoken with many folks and read many web posts from folks who have traversed Spiderman Rock. Almost every one of them felt it necessary to say that they were very glad they'd climbed Spiderman Rock as opposed to climbing down it. I can say that, for me, I am so glad I did NOT climb Spiderman Rock. That would have been much tougher. But down we got, and off we went for Basin. Along with many looks back to appreciate the impressive ruggedness of Spiderman Rock and thankful we'd made it down unscathed. Down - down - up - up - up - up - and a nice gentle approach to the summit of Basin (a little over 9 miles on the day in a little over 7 hours) where we arrived at about 1310. Again, amazing views.
Money Shots: Basin Mountain (45/46) - Summit 2010-08-30 13:15 EDT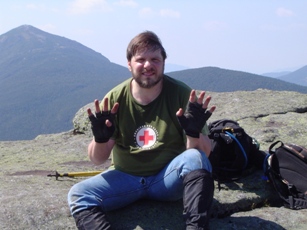 To Little Haystack and Mount Haystack:
So, wow, the descent of Basin was pretty exciting. Not quite as rugged as Spiderman Rock, and not quite as long before turning into a more well defined trail, but much more exposed. The second exciting descent of the day. Followed by the 1000 foot descent down to the col between Basin and Little Haystack. We found a nice little stream in the col and refilled our bladders there. In fact, this was probably the fourth time we'd pumped that day. It was a long hike and it was cool and dry and very windy on the peaks, so we were drinking a lot. In fact, the wind was strong enough that it really made the descent of the open rock faces a little nerve wracking. But every good 1000 foot descent deserves a 1200 foot ascent, so on up to Little Haystack and Haystack. For me, seeing the rugged rock piles of Little Haystack and Haystack up close was daunting to say the least. But with a successful trip so far behind us and only those obstacles standing between us and the prize we went off for the final ascent of Little Haystack. Did I mention the wind? I can't adequately describe the fear of being blown off these peaks by the steady winds blowing across them, punctuated by moderately frequent and sustained gusts. At no specific time did we feel we were about to be blown off, but the strength of the gusts was such that much of an increase might in fact cause one or both of us to lose our grip. And grip it was. The ascent and descent of Little Haystack were steep and exposed. At a couple of points I tied a rope between us just to be safe. But to the top of Little Haystack we got. And back down again. Then up Haystack for the finale. In fact, we probably moved up Haystack faster than I would have at any other point in this seven year adventure simply because we were afraid the wind in fact would turn worse and we'd either give up for fear of safety or we would encounter a gust that would cause a fall. So up we went and up we got, reaching the summit of Haystack (a little shy of 12 miles in a little less than 11 hours) at about 1645. Again, the views were amazing. Reaching the peak relatively close to dusk also made for an amazing feeling on the peak.
Money Shots: Mount Haystack (46/47) - Summit 2010-08-30 16:50 EDT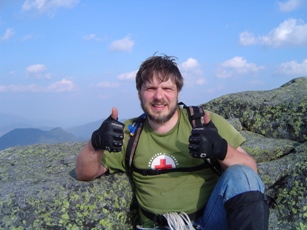 I took a picture of Kristy with Marcy behind her. I am pictured with much of the Range behind, looking like low and distant hills from the perspective of Haystack. The only real disappointment of the trip was that after our previous hike on the Range we had hoped to have some company on the peaks. On this trip we encountered one individual in a campsite along the Orebed Trial, one hiker between Saddleback and Basin heading in the opposite direction, and a couple between Basin and Little Haystack also heading in the opposite direction. We had very much hoped to share the end of our quest with others on Haystack, or possibly even down at Slant Rock on the way out, but no such luck. We in fact found the day quite lonely. So a mildly harrowing descent of Haystack followed by some minor complaining before heading back up and over Little Haystack was followed by a real sense of relief and gratitude when we reached the huge boulder near the junction of the Range and Phelps Trails and were on the final descent down toward the John's Brook Lodge and eventually the Garden. We made quite good time, with some slow portions due to steep descent, until we hit the shelters near Bushnell Falls at around 2000, which is when the it got dark enough for head lamps and our progress was slowed a bit. This would have been at about the 15 or 15.5 mile mark for the day with a time of 14 hours. Some slow going with fortunately little stumbling and we made it to John's Brook Lodge (about 17.75 miles in a little less than 15.5 hours) at about 2120. Again, we had some hope that a somewhat boisterous group (like the Summit Sisters from our first trip in 2003) would be staying in the Lodge and that we could share our success with them. Apparently, though, there was a family with young children that sounded as though they were playing ping pong (is there a ping pong table at the John's Brook Lodge?) when we arrived at the Lodge. I think they knew we were there, but they never acknowledged us. We sat on the porch near the water spigot for about 10 minutes then launched off for the Garden. The last 3 mile leg of the hike actually only took an hour and a half and we were in the Garden before 2300. A nearly 21 mile hike that took us over 3 major and 2 minor (Little Haystack twice) peaks, up the Orebed Trail, down the Phelps Trail, and past our old friend the John's Brook Lodge on a little under 17 hours. We were tired. In my optimistic dreams were were going to complete the hike about two hours earlier. Unfortunately, we did get on the trail about half an hour later than I'd hoped and I honestly think we could have shaved nearly an hour off the hike itself if only the wind wasn't so brisk. Those combined would have put us into John's Brook Lodge at or shortly before sundown, which I think would have given us a decent shot at getting out by 2100. But the best laid plans...
Finishing up: Had we gotten out at 2100, my plan had been to drive down to a hotel near the Slide Mountain trailhead, clean up, get a few hours of sleep, then summit the peak as shortly after sunrise as possible and head back to Albany to catch our flight. Since we were getting out so late and so tired and so frustrated from about 5-6 miles of hiking in deep dark we decided to rejigger the plans. We stopped off at the Keene Valley Hostel, got some well appreciated hot showers and a clean change of clothing, and drove down to Albany.

Child stats: Rachel - 2 years 3 months, Merrick - 7 months.

Epilogue: Not much to add. We knocked the last of the Adirondack orphans off of our list and wrapped up the last of the Adirondacks. We can't really count Slide Mountain as an orphan because we never actually attempted to hike it and we really never were in the area. But it will require a separate trip to the Catskills for that one and only peak to complete the Northeast 111. But we once again fell one peak short of our goal on this last Adirondack trip, so I guess it's a good thing we had Slide on our list!
I made a prediction last year on what our ADK roster numbers would be, assuming we had gotten our trip reports in on time for the 2010 calendar year: ~6800. Looking back, they would have been ~6890. In retrospect, using all available roster data was probably a flawed approach. I've revised my prediction for what our numbers would be in the 2011 roster (assuming we get them in on time!) using data since 2000. My prediction: 7132 and 7133. But, as Kristy pointed out, that would be the prediction if we had completed the peaks in 2011, and not in 2010. Because we completed the peaks in 2010 and the numbers are assigned in order of the time the last peak was summitted (presumably why they ask for the EXACT time you summited your 46th peak) we should get numbers at the very beginning of the roster for 2011. That takes no predictive skill and is simply a guess that our 46r numbers will be 7010 and 7011.
We're currently fighting an implacable County process, banks that don't seem to be interested in lending money to people who can actually afford to pay it back, and an administration that is fostering exactly this kind of idiotic behavior and destroying the economy - all trying to get our log home built in Fairfax County, VA. So we are unlikely to be bagging any more peaks soon. We're hoping that if every block falls into place just right we can get started building soon and take occupancy early enough in Fall 2012 to take a short trip to Vermont and claim the five peaks there. Please check back...