| | |
| --- | --- |
| Number of Peaks Climbed | 4 |
| Peaks Climbed | Esther, Whiteface, Street, and Nye |
| Peak Height Ranks | 5, 28, 31, and 45 |
| Trailed / Trailess Peaks | 1 / 3 |
| Peak Numbers | 16, 17, 18, and 19 |
| Total Elevation Gain | 7201 feet |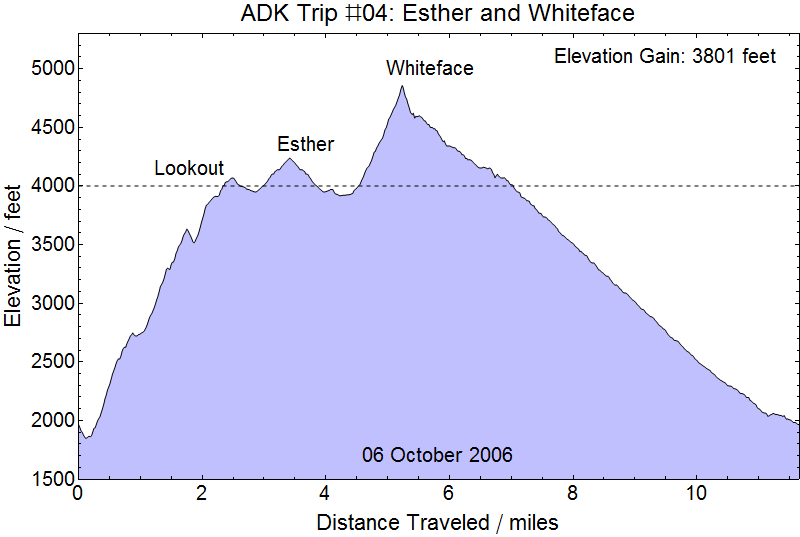 05 October 2006
Lake Placid:
I have too give credit to Kristy for providing the push to get us back up into the Adirondacks so quickly after our last trip. Though she didn't have to push to hard. With three trips in four years and a total of 15 peaks we were facing the fact that we were not making the kind of progress we needed to finish off the High Peaks. However, being the second trip in the same year after a first trip in the end of August it was already October. We'd had an amazing time hiking in October two years before - but we'd also had a very cold and wet time hiking in October two years before! So Kristy scoured the trail guide and studied the maps to find productive day trips, we booked a hotel in Lake Placid, and off we went.
We arrived in Lake Placid the evening of 05 October and stayed at Woodlake Inn. This was a "rustic" but comfortable hotel with all necessary amenities as well as a kitchenette, which was very handy. We had dinner that night right next door at Taverna Mykonos and got a great rest preparing for our hike the next day.
06 October 2006
Esther and Whiteface:
The first dayhike we planned was Esther and Whiteface. We left the hotel room a little before sunrise, which was 0700, parked at the Atmospheric Observatory at about 0715, and headed off following the signs toward Lookout Mountain and Esther. Frankly, with the maze of trails leading up from the observatory site I don't have any idea what our actual path was, but in no time at all we were standing on Lookout Mountain surveying the day ahead of us. We arrived at about 0915.
Mount Lookout - Summit 2006-10-06 09:15 EDT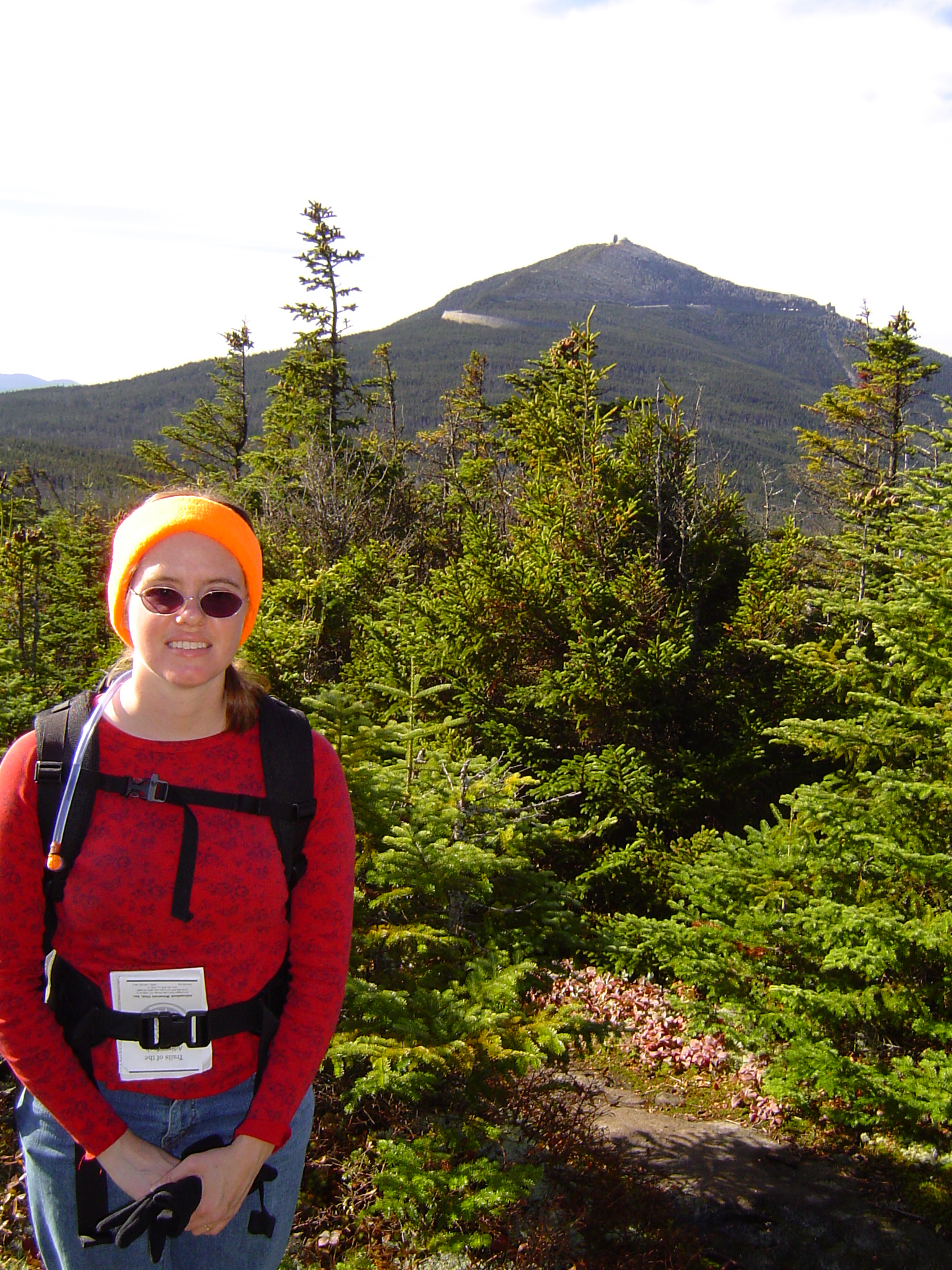 Whiteface from Lookout Mountain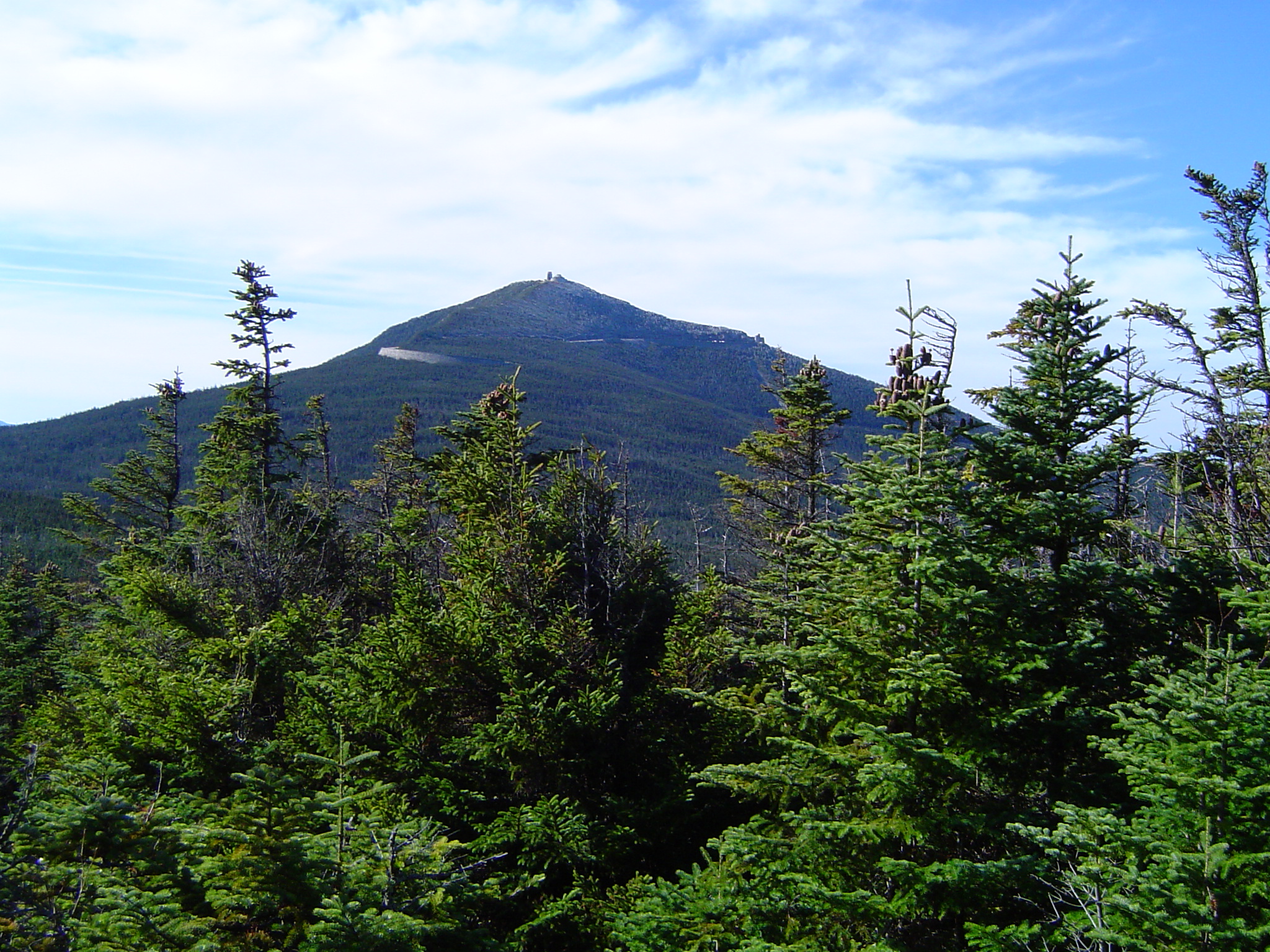 On to Esther:
We found the herd path to Esther with no problem and were on our way. It was a really bright, clear day and we were having a lot of fun hiking. Esther was an easy climb and we ended up on the summit in about twenty minutes, at about 0935.
Money Shots: Mount Esther (16) - Summit 2006-10-06 09:35 EDT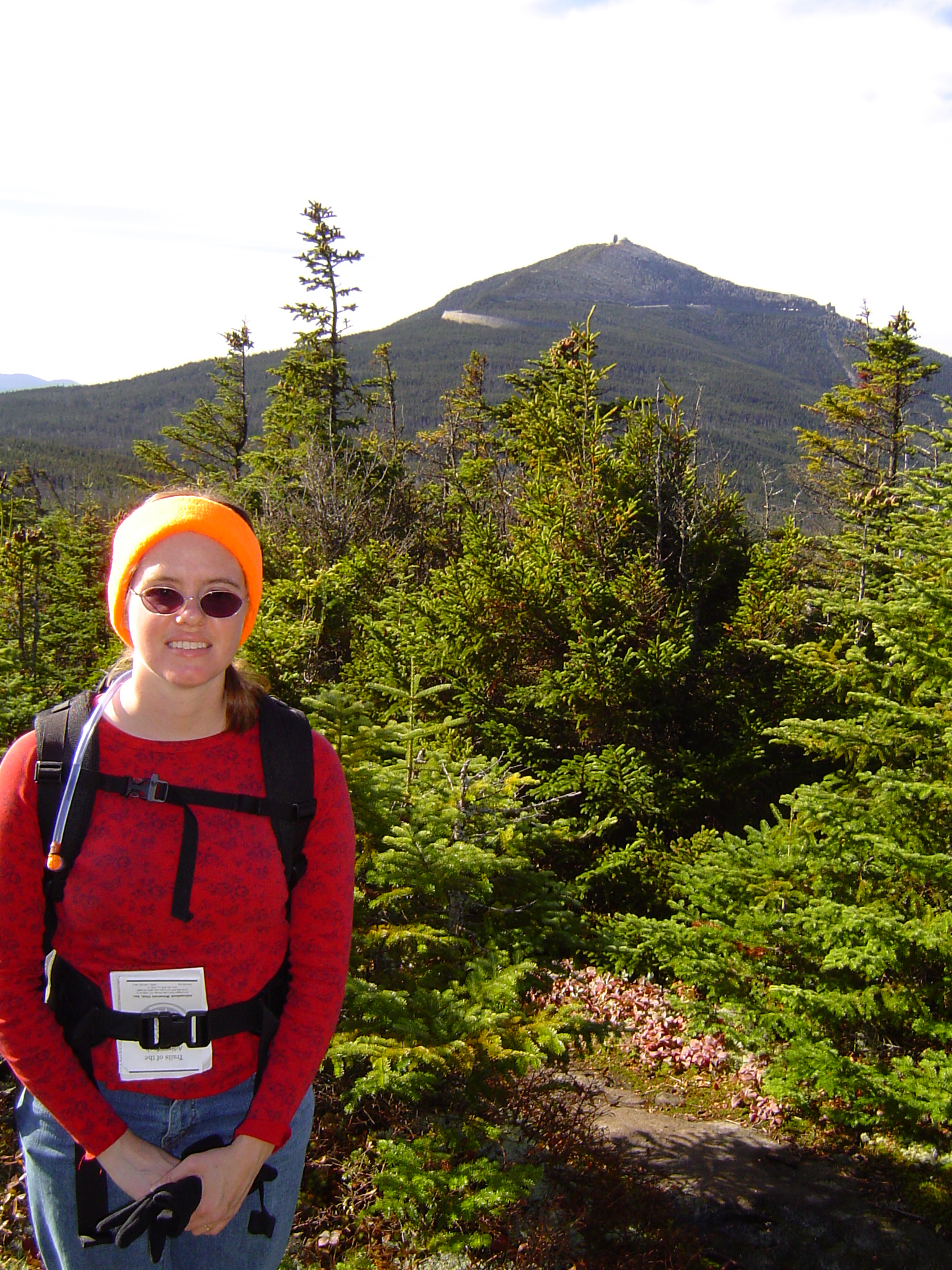 Esther Plaque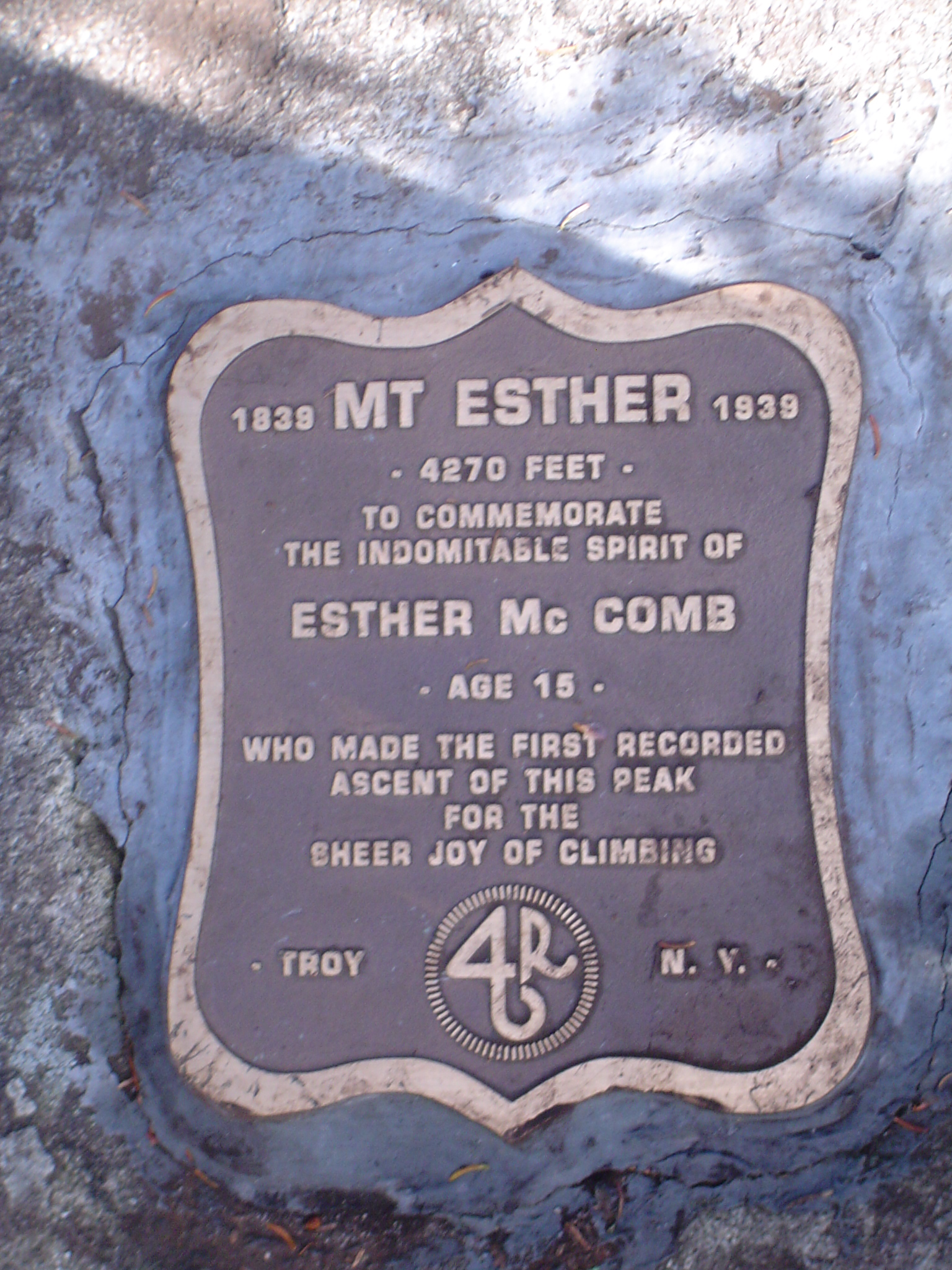 And on to Whiteface:
The steep ascent of Whiteface slowed our progress a bit. But with the excellent progress we'd made to Esther, reaching the summit in only a little over two hours, we also felt a lot less pressed for time on the rest of the ascent. The Wilmington Turn slowed me down a bit, requiring several scrambles which I accomplished nervously and only after some contemplation preparing myself for the climb. Also, when we reached the open rock approaching the back of the Castle I felt exposed and forced us to a relatively slow pace until we reached and climbed over the rail. There was not a small amount of ice on the rocks and I was also traveling without poles, so I picked my way very carefully among the ice patches to the peak. But after all of the effort we arrived at the Castle at about 1140.
Money Shots: Whiteface Mountain (17) - Summit 2006-10-06 11:40 EDT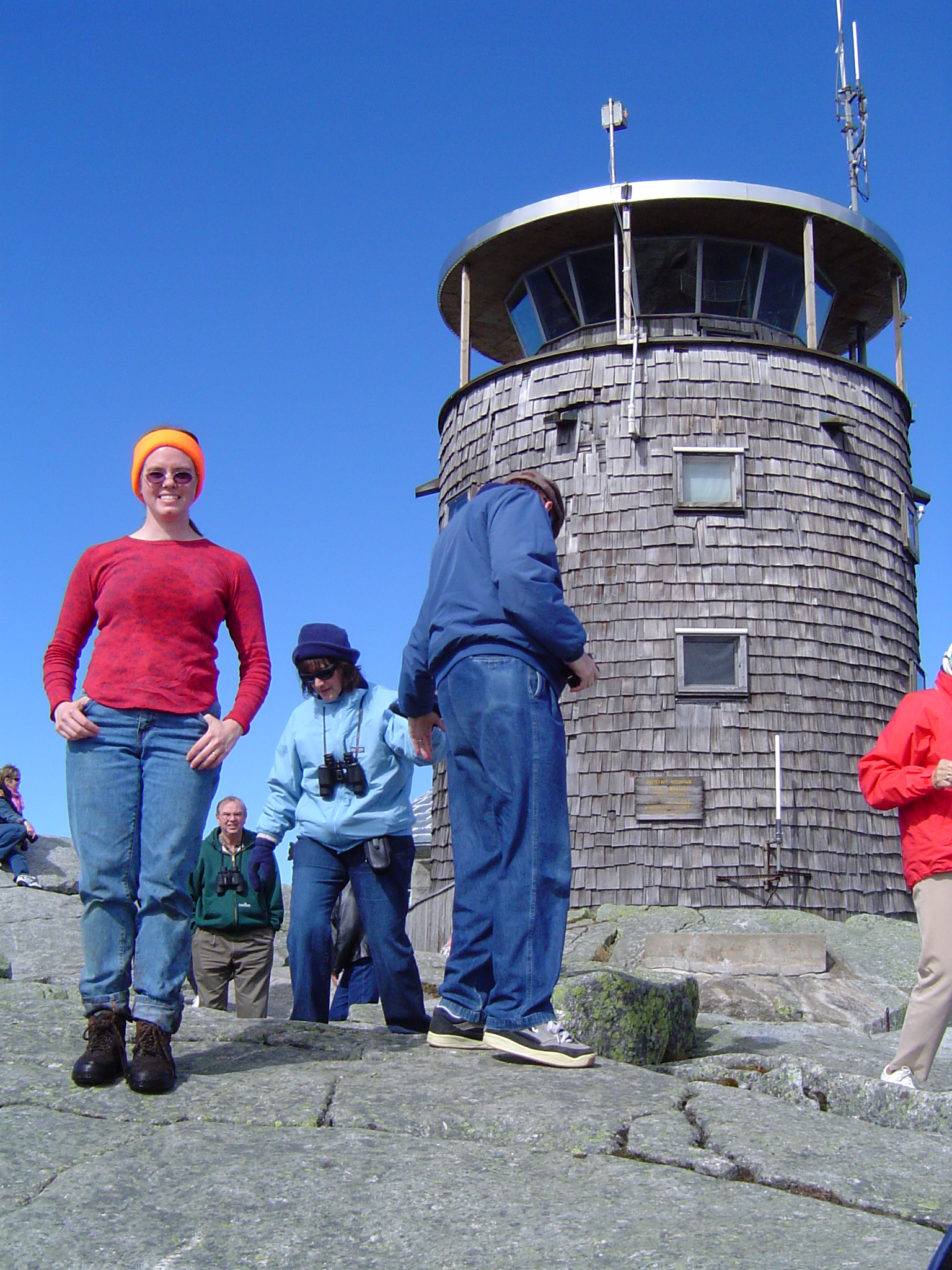 Whiteface Mountain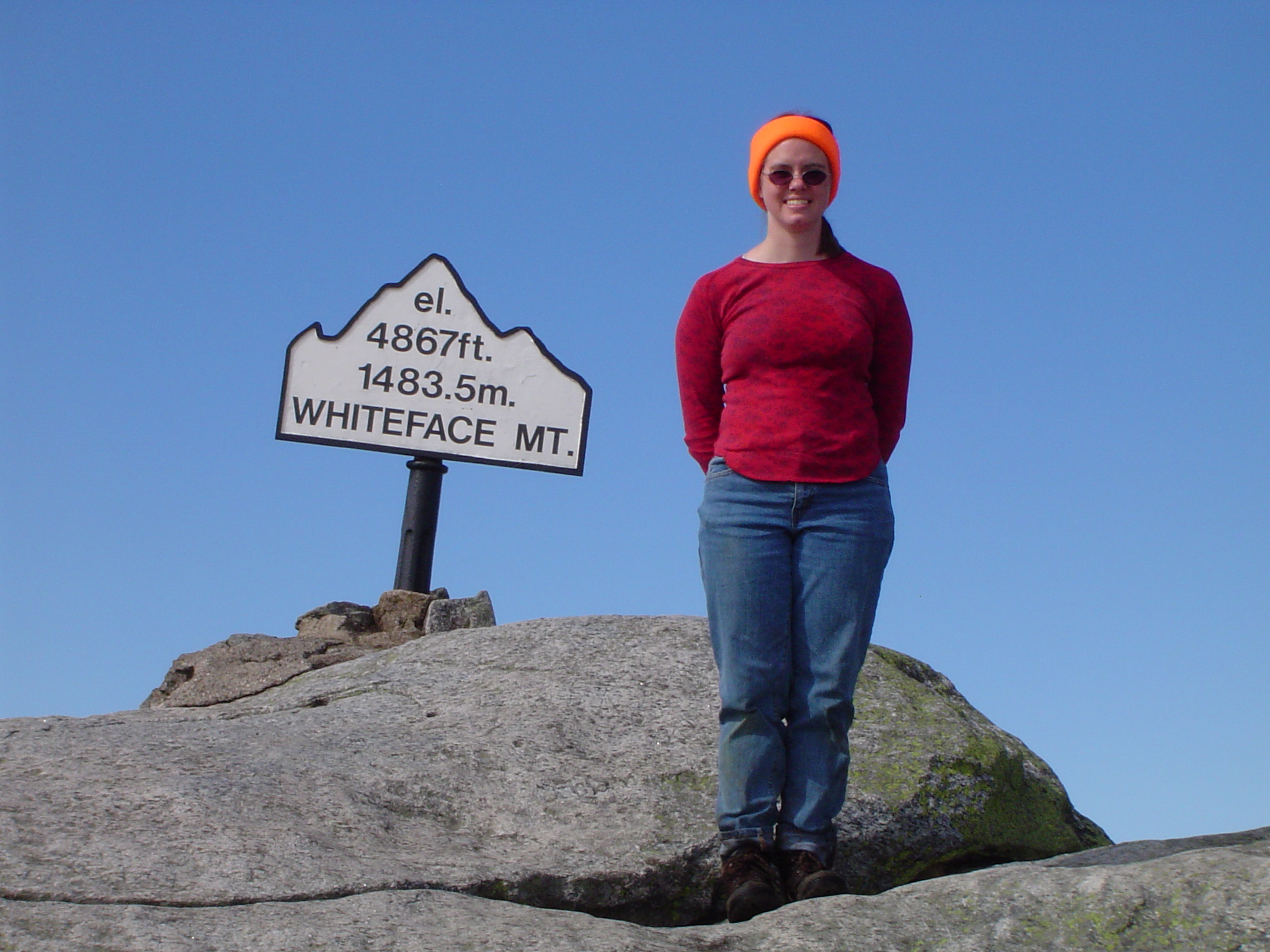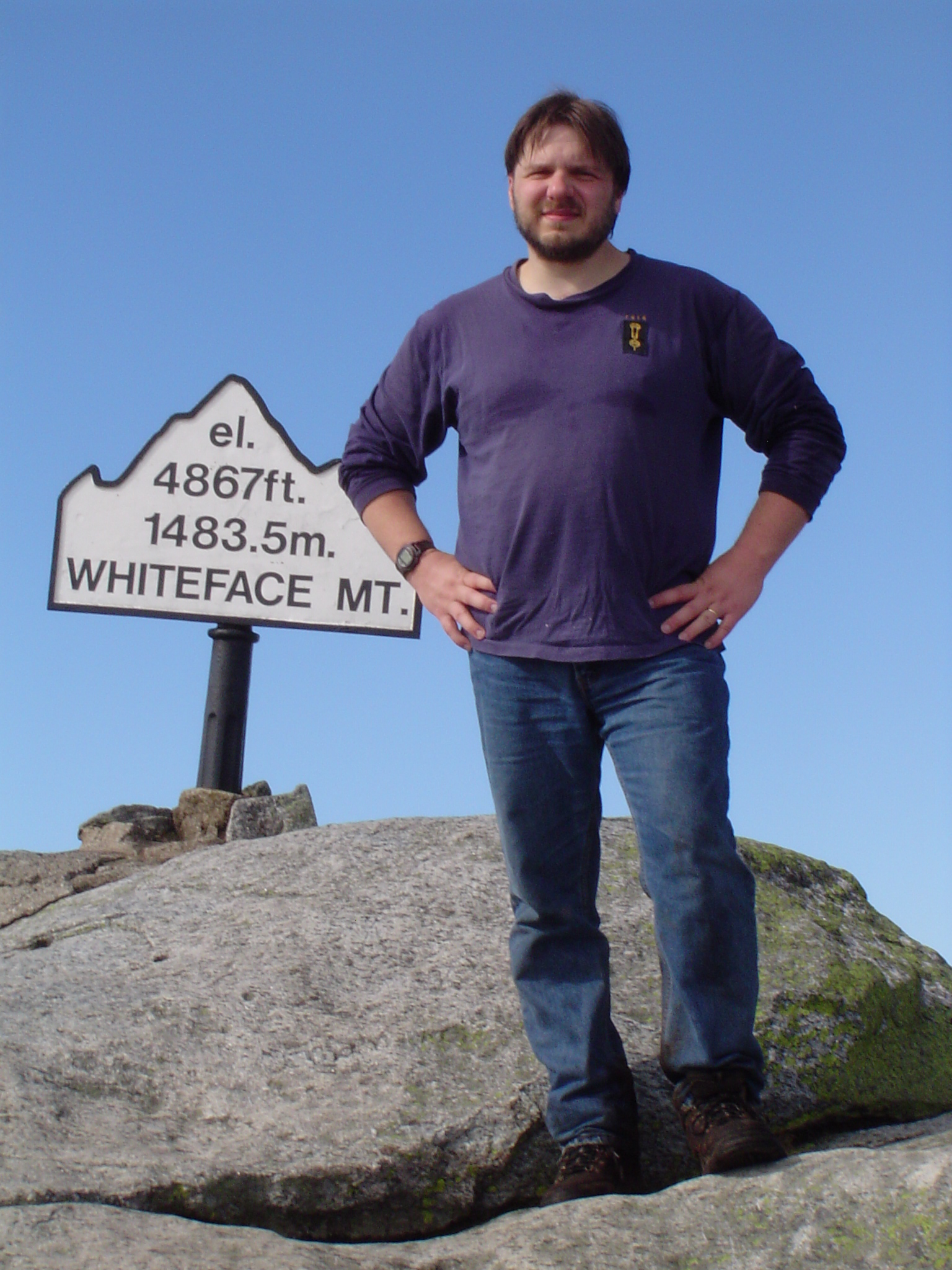 Having summited our last peak of the day before noon, we decided to take the opportunity to enjoy the views and the amenities the Castle had to offer. We walked around the Castle enjoying the views and taking pictures. We had a quick hot lunch at the cafe in the Castle (I had chili), we rode the elevator down to the parking area and took the tour. We finished by taking the elevator back up to the summit for the trip back to the car.
More views from Whiteface Mountain
Having come up the trail we decided that it might be more fun to take the road back down to the car even though the trip was a bit longer. I also hoped this route would help spare Kristy's knees a bit better for our outing the next day. We walked down the rock stairs with the hand rails down to the parking area then to the road. It was a long slog down the road, but we were at the car in a little over two hours and back off to Lake Placid for hot showers, hot food, and a cushy bed in a warm room.
07 October 2006
More trailess peaks: Street and Nye were next on our agenda. We got off to a much later start than I would have liked, but expected an easy trip. In fact, after a good start around Heart Lake from the Adirondack Loj we continued to make good time on the herd path toward the junction between Street and Nye. We made great time - until the herd path ran smack into a large Beaver pond that it once ran through. There obviously was a new herd path around the Beaver pond and we had missed it n favor of the original path - which apparently was still a somewhat common mistake at this point because usage was keeping the herd path well worn. We lost quite a bit of time backing up the pat hand trying various approaches to what looked like crossable points in the river only to be turned back mid-crossing. After quite a bit of searching a college-age group cmae along. They pushed further along the river than we had and found a fordable passage over a large log. We followed their lead but by the time we came up out of the river bed they were nowhere to be seen, and we spent several more minutes searching again for the herd path. Much of this passage would have been very difficult for me if Kristy hadn't found someone to fix my poles the day before in Lake Placid. We could hear the group ahead of us spread out and searching as they called to one another, and though it was difficult to know where the successful group had found the herd path, we gathered enough of the general direction of the group to move in roughly the right direction, bushwhacking along the way until we too stumbled upon the herd path. When we finally got reoriented Kristy pointed out that we have arrived back to a point directly across the Beaver pond from where we had first run to the end of the original herd path. So we had apparently done about as good as we could have, and now had a good feel for where we needed to go on the trip out. From this point on the herd path remained easy to follow, and though a bit rugged in some spots with some short rock scrambles was quite navigable. We reached the col at perhaps 1130 or maybe a little later and chose to summit Street first since if the two it had the only promise of providing any views and we were also getting hungry and hoped to rest and eat soon. Perhaps 30-45 minutes later we were on Street Mountain, arriving at about 1210.
Money Shots: Street Mountain (18) - Summit 2006-10-07 12:10 EDT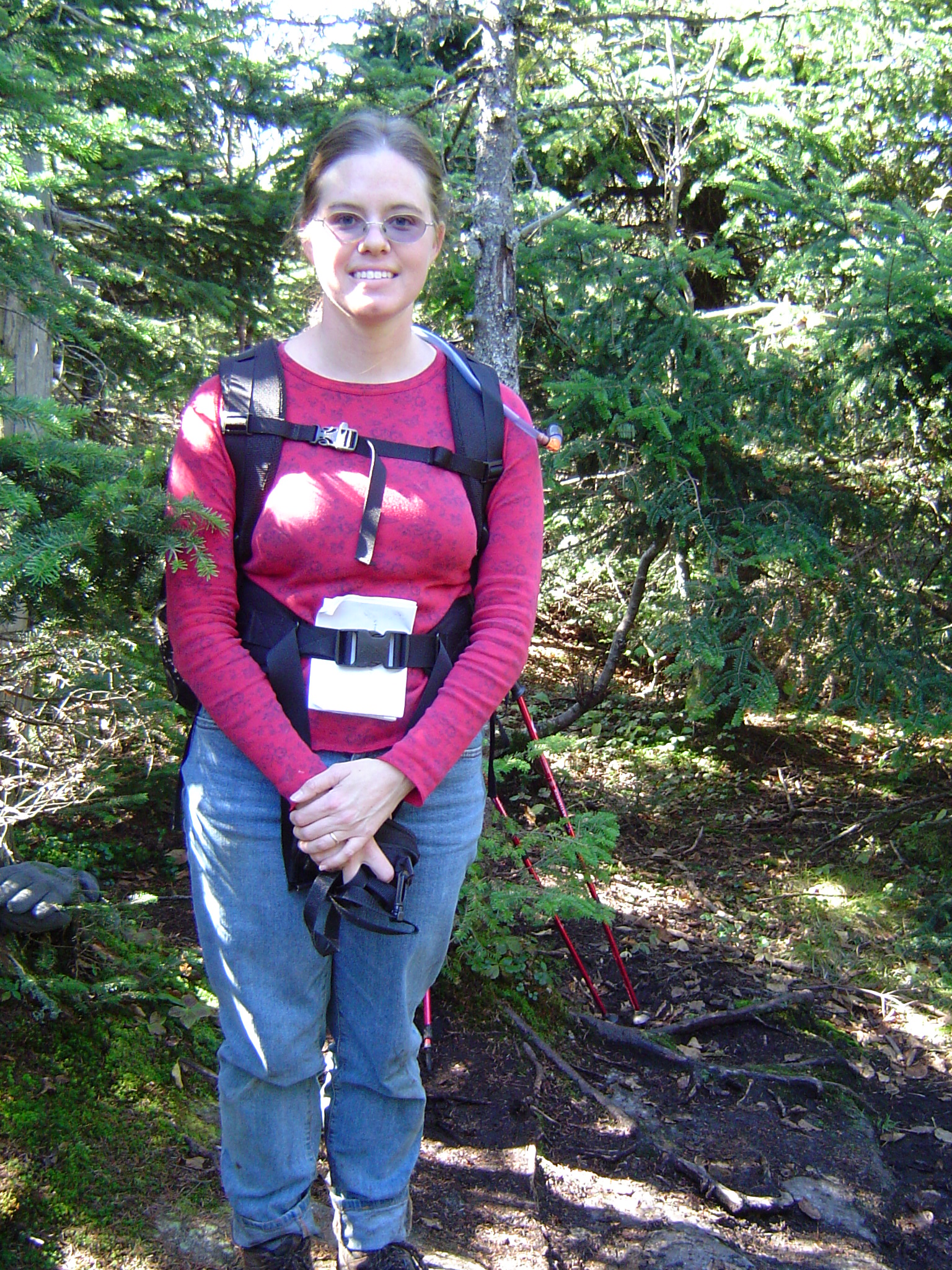 Finding the summit of Street was a little tricky. We wandered a bit near the top of the mountain until we found the cliff looking out over the Roaring and Indian Pass Brook valleys where the group ahead of us was now enjoying their lunch. We talked with them for a while and confirmed that a little above the cliff we had reached what everyone agreed was the peak. Refreshed and eager to get moving we headed back down to the col and over toward Nye. The other group had struck out before us and we encountered them coming back down from Nye as we headed up from the col. We again stomped around near the summit for a while before finding the summit sign. The ascent of Nye was both substantially shorter that the Street climb had been as gained much less elevation. We arrived at about 1255.
Money Shots: Nye Mountain (19) - Summit 2006-10-06 12:55 EDT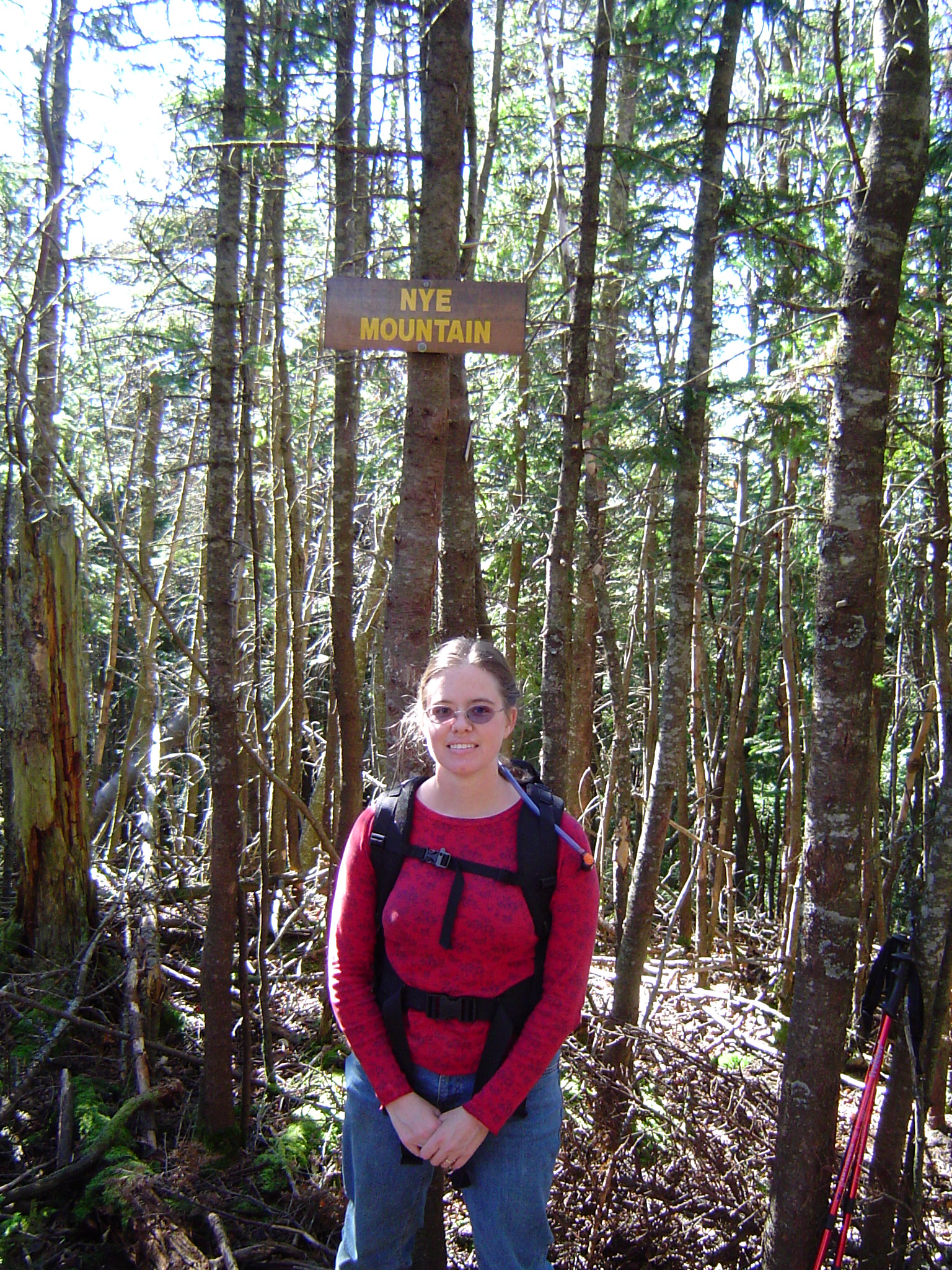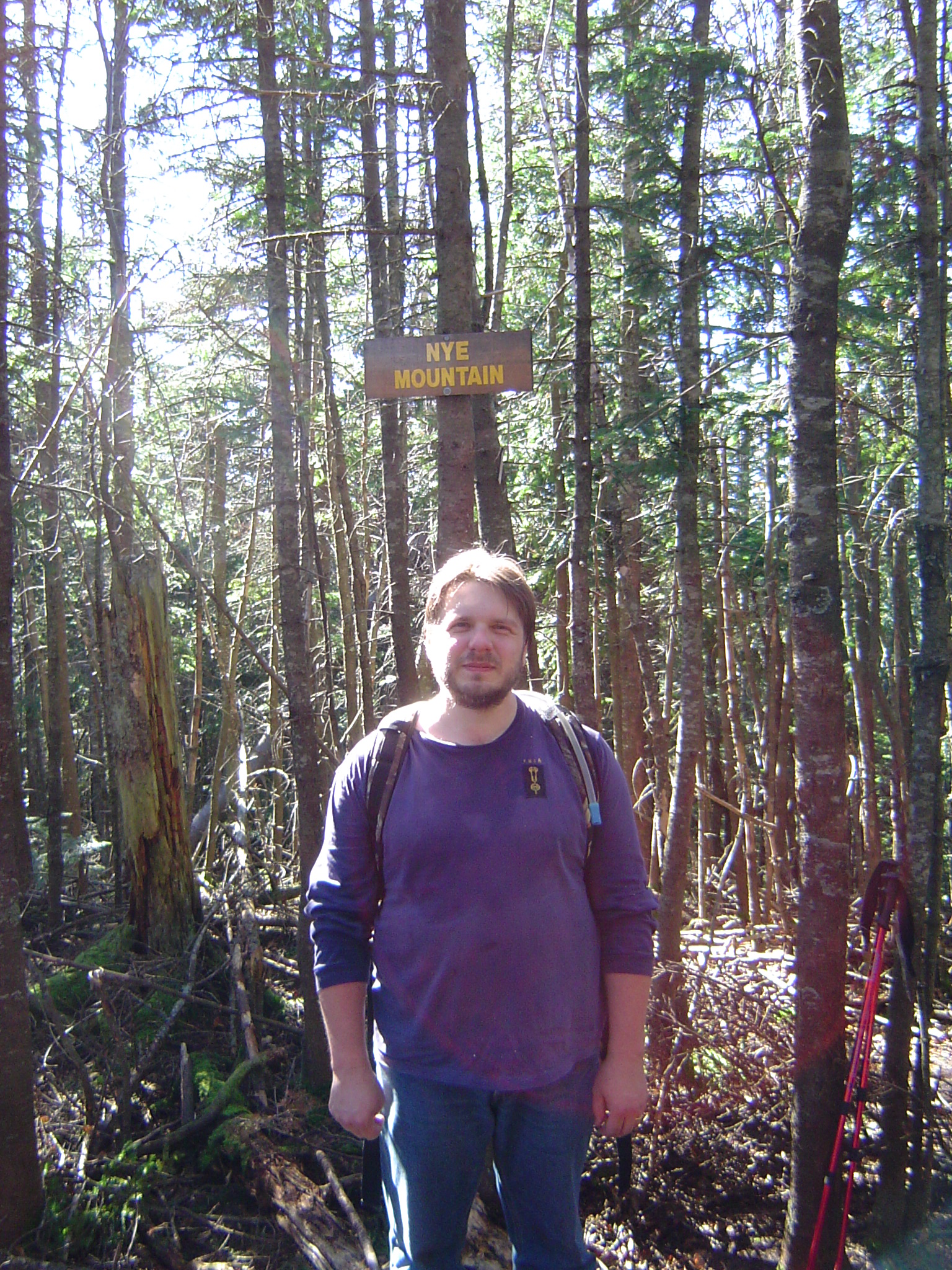 Having bagged our peaks for the day we didn't waste much time heading down. I tried not to push Kristy too hard to save her knees, but tried to maintain a reasonable pace since it was already past noon and we still had a river to cross without a well defined trail. We were moving along pretty good until I twisted my knee. And I did a pretty good job on it too. I took some aspirin and after a while the combination of the aspirin and learning how to favor my knee meant that I could maintain a moderately useful pace despite the pain. The pain did continue to improve a bit as we moved down the mountain so that I was able to keep up a reasonable pace, but it was never fun until we hit the road and I could relax a bit. We had no problems finding the path across the river along the way, and crossing back with my knee wasn't as bad as I feared. But the last mile stretch down to the lake and around to the Loj, while painful, was a relief because we had reached a point where we knew we could get out or find help if we needed it. We hit the car just as it was getting too dark to easily navigate without lights and were grateful to be at the car. We should have finished with at least two hours of daylight left even with the late start, but our confusion at the Beaver pond and hurting my leg really cost us a lot of time. I was especially grateful to get my weight off my leg.
Next trip:
Who knows what the coming year may hold. It was a less than productive year, but with two trips we were able to rack up seven total peaks. That brings the total to 19 with 27 remaining. With a digital camera we now have a running log of actual peak times, which is nice. Will we get at least 4 peaks next year and clear the halfway mark?